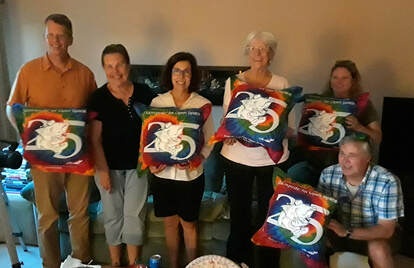 Founder and long-time Board member Bobbie Sheffield retired from the South Metro Land Conservancy (SMLC) Board of Directors in December 2018.
   
Bobbie, along with a group of other like-minded citizens, formed SMLC in 1993 because of their concern with the rapid loss of open space in the south metro area. The first project the new organization tackled was partnering with the City of Littleton to secure 18.75 acres of the Newton Trust property next to South Platte Park. SMLC went on to be involved with all subsequent purchases that added important park land and buffer.
     
Under Bobbie's leadership, the organization did not just contribute financially and facilitate land acquisition for South Platte Park. SMLC served all of Arapahoe County and parts of Douglas and Jefferson Counties. SMLC notably was involved with the purchase of the Chambers Farm (now Wynetka Ponds Park), Lee Gulch Open Space, and the Stockwell property adjoining Chatfield State Park. (Please see complete list below.)
     
One recent SMLC project was the 1000 acre Marrs property, of which Bobbie is particularly proud. Not only did SMLC provide seed money to facilitate the purchase with Colorado Open Lands and Trust for Public Lands, SMLC was the catalyst for adding 9000 acres to the Plains Conservation Center and ensuring the placement of a conservation easement on the Center. "The easement was almost as important as the purchase of the Marrs property," Bobbie remarked.
     
Bobbie served for 10 years on the Arapahoe County Open Space and Trails Advisory Board and was SMLC's representative on the Platte River Working Group. In addition, Bobbie continues as an avid and long-time volunteer at Roxborough State Park and South Platte Park.
     
Bobbie says, "Working with SMLC has been one of the great joys of my life. Now is the right time to retire from the SMLC Board as the organization is strong and financially stable. I'm stepping aside to let others take the lead and I look forward to devoting more time to my family."
     
Bobbie further notes that during the 25 years of SMLC's existence, the organization has raised approximately $300,000. "Most of that consists of donations of $15 to $1,000 from citizens committed to preserving open space," Bobbie adds.
     
It is no wonder that Bobbie's favorite quote is from Margaret Mead: "Never doubt that a small group of thoughtful, committed citizens can change the world. Indeed, it is the only thing that ever has."
     
Littleton and the south metro area owe a debt of gratitude to Bobbie Sheffield. Bobbie has worked tirelessly through the years to make the community a better place – a community that ranks very high with citizens because of its excellent system of open space, trails and parks. On behalf of SMLC's board and all of its supporters, we wish Bobbie, along with her husband Tex and their children and grandchildren, much good health and happiness.
Key SMLC accomplishments:
Buffering South Platte Park
Preservation of Wynetka Ponds Park
Addition of South Downs to Roxborough State Park
Preservation of the 160 acre Stockwell Property adjoining Chatfield Arboretun
Arapahoe County Comprehensive Plan update/ Open Space Master Plan
Railroad Spur Trail north of Mineral Avenue
Arapahoe County Open Space Tax (2003 and 2011)
Waterton Canyon Partnership
Audobon Nature Center
Oxbow Purchase
Lee Gulch Open Space Purchase and Master Plan
9000- acre Plains Conservation Center
Marrs Property Purchase/Conservation Easement of Plains Conservation Center